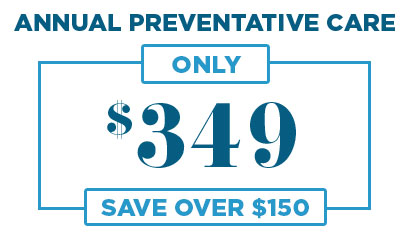 ✔

Significantly reduced fees.


✔

No waiting periods.


✔

No limitations.


✔

No "non-covered services".


✔

Only pay for services you receive.
Annual Preventive care for only $349. (Includes two cleaning - D1110, dental exams -D0150 and preventive X-Rays - D0210).

---
Additional family members can be added for only $149/per person.

---
Includes emergency visits.

---
Up to 50% discount for any dental treatment needed.

---
20% discount for orthodonitc treatment.